Saturday, 9 May 2020
Last October (2019), my husband and I went on a journey to Saga prefecture, which is located in the northwestern part of Kyushu, the third-largest island of Japan. Since Saga is known as the origin of Japanese porcelain ware, I wanted to visit it to understand how this world of pottery has begun, and how it looks now. Although visiting five towns in four days was a lot to take in, I wanted to take this opportunity to discover traditional potteries, which you won't easily find outside of Japan.
While this journal series is mainly about ceramics, it is difficult not to mention onsen ryokan, traditional Japanese inns with hot spring baths, and delicious foods of this region.
Before starting our pottery journey...
To get to Saga, we flew about two hours from Tokyo to Hakata, which you can call an entrance to Kyushu island. Hakata has a lot to offer in terms of food. One of its popular dishes is ramen. Tonkotsu ramen of Hakata comes with thin and flavourful noodle in rich and creamy pork broth soup. We tried Ikkousya ramen, which is famous for its unique foamy soup. The shop was located close to Hakata main railway station, only a short train ride away from the airport.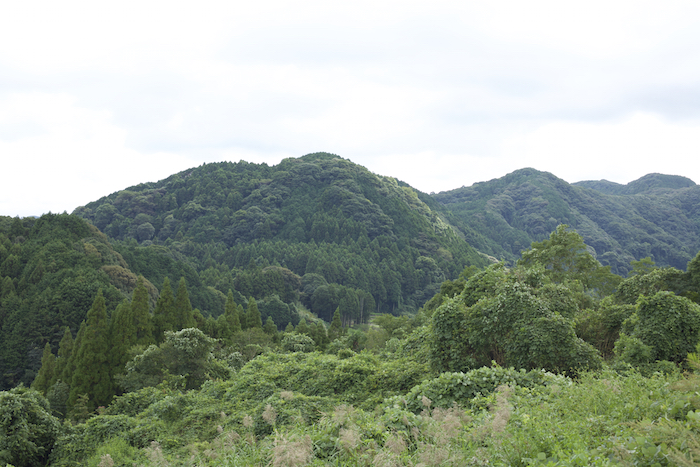 About the region
Saga used to be called Hizen and included the modern-day neighbouring Nagasaki prefecture. As Hizen was one of the regions closest to Korea, it was influenced by its ceramics tradition around the 16th century. All porcelain wares made in and exported from the domain were called Arita ware (有田焼). For this reason, there were many potteries in Saga, which have not been heard about for a long time. (I will be writing about Arita ware on following posts.) 
Hizen Yoshida potteries (肥前吉田焼), which are located in the Yoshida area of Ureshino city, are some of those. In contrast to opulent Arita ware of the era, Hizen Yoshida Yaki was developed as wares for everyday use. Today, Hizen Yoshida potteries still continue to make wares for traditional Japanese dinings, such as rice bowls, soba cups, teacups, and teapots for green tea, though its design and craftsmanship have been evolving to adjust for modern-day.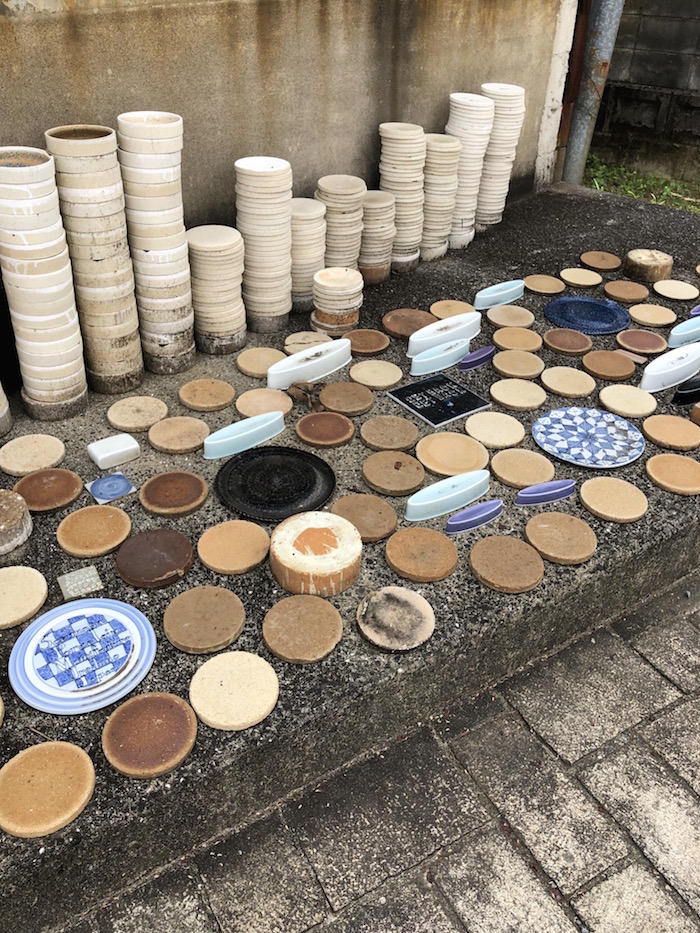 Exploring Ureshino
Ureshino is located two hours south from Hakata airport by bus. Aside from pottery, Ureshino is famous for their Ureshino green tea (嬉野茶) and local hot springs known for Japan's best three onsen to make your skin beautiful. (日本3大美肌の湯) Most visitors to Ureshino stay in Onsen Ryokan (Japanese-style-inn with Onsen) and we did so too.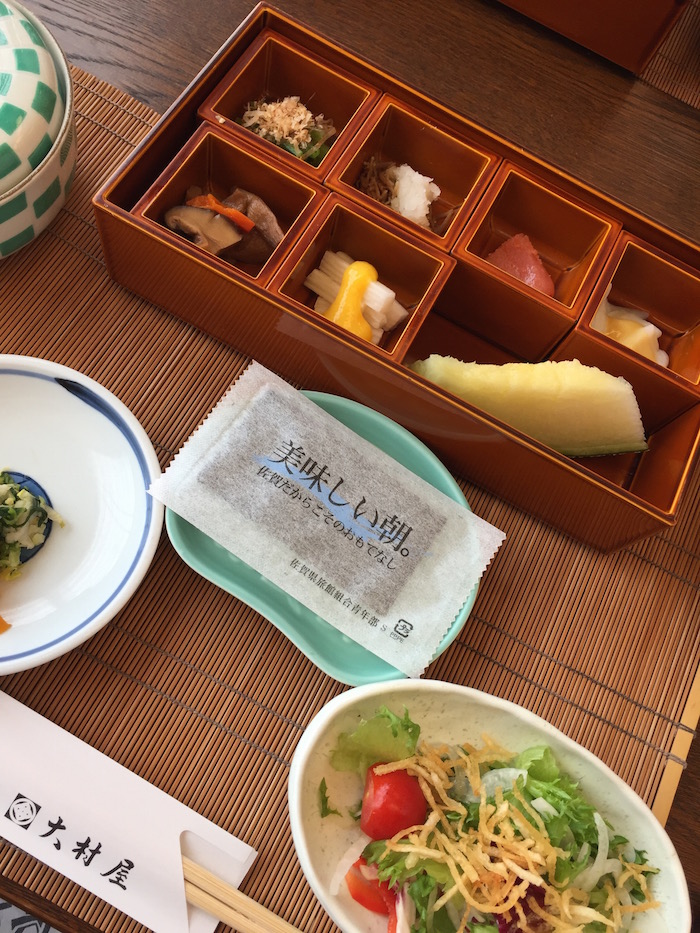 After enjoying an onsen stay, we started exploring Yoshida area, which is the town's centre of pottery. We visited the Hizen Yoshida Ceramics Hall (肥前吉田窯元会館), displaying a collection of ware from local kilns. They also run pottery workshops, such as throwing on a wheel and hand painting bisque pieces. Seeing their collections gave me an overview of Hizen Yoshida Yaki, so it was a good idea to start the journey there.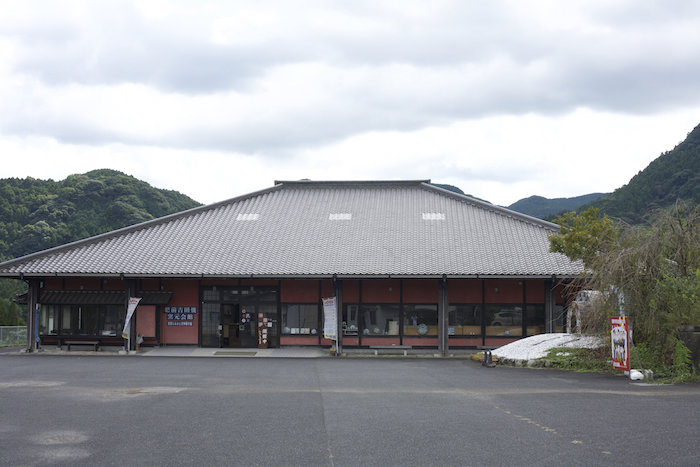 Kiln visits
With time approaching lunch hour, we had a nice, quiet stroll around the town. Doors of most of the kilns were left open modestly, allowing us to go inside and have a quick look before moving to next town (of course, I was very careful not to touch anything, nor take a photo of on-going production). We went to see a first local kiln called Soesen(副千製陶所), whose ware is a symbol of Hizen Yoshida Yaki. Soesen is known for its signature polka-dots design, which was awarded for good design/long-life design in 2010.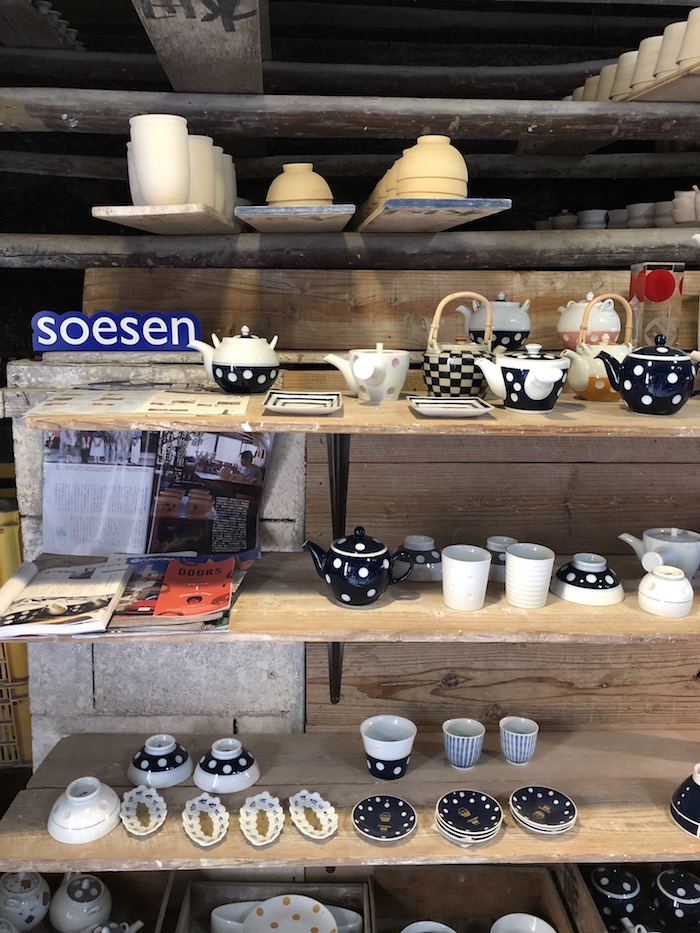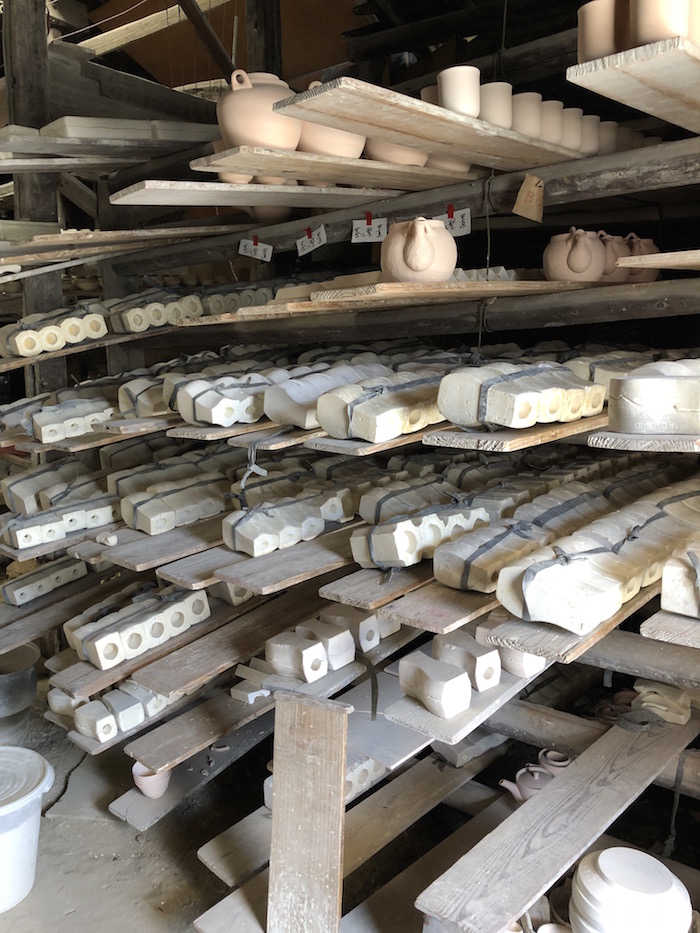 Stepping through the entrance of the workshop, you instantly feel like you are in 17th century Japan. Despite how homely it presents itself on the outside, inside of the workshop was spacious with rooms and rooms of workshops. It gave me a feeling of finding a lost hidden treasure, which you want to keep it only for yourself.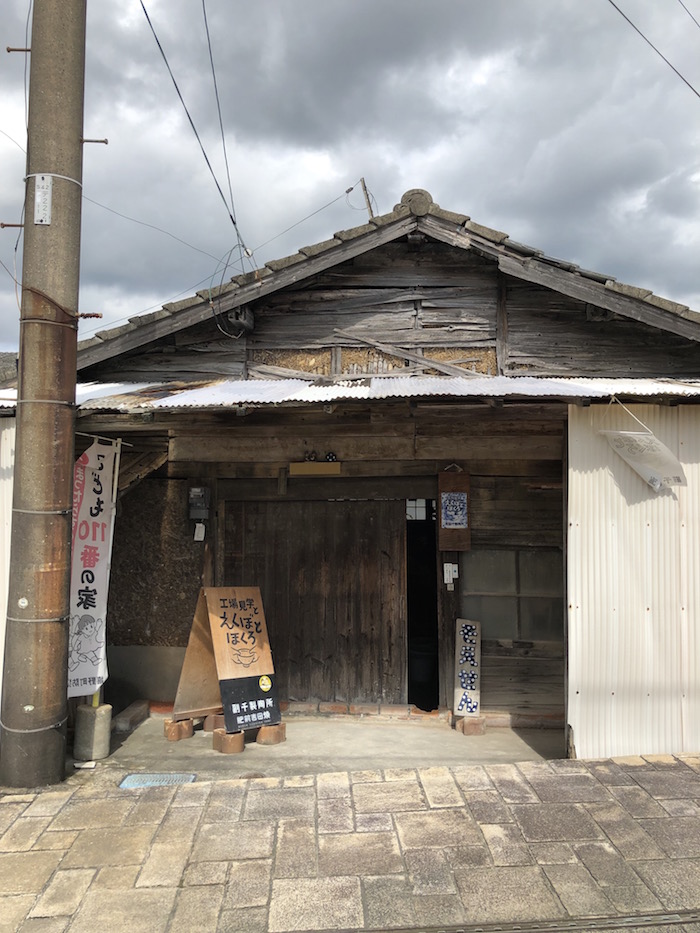 The workshop also had a small and silent gallery next to it, along with a Japanese style tearoom. The gallery has a similar aesthetic to the workshop, but its appearance is more sophisticated.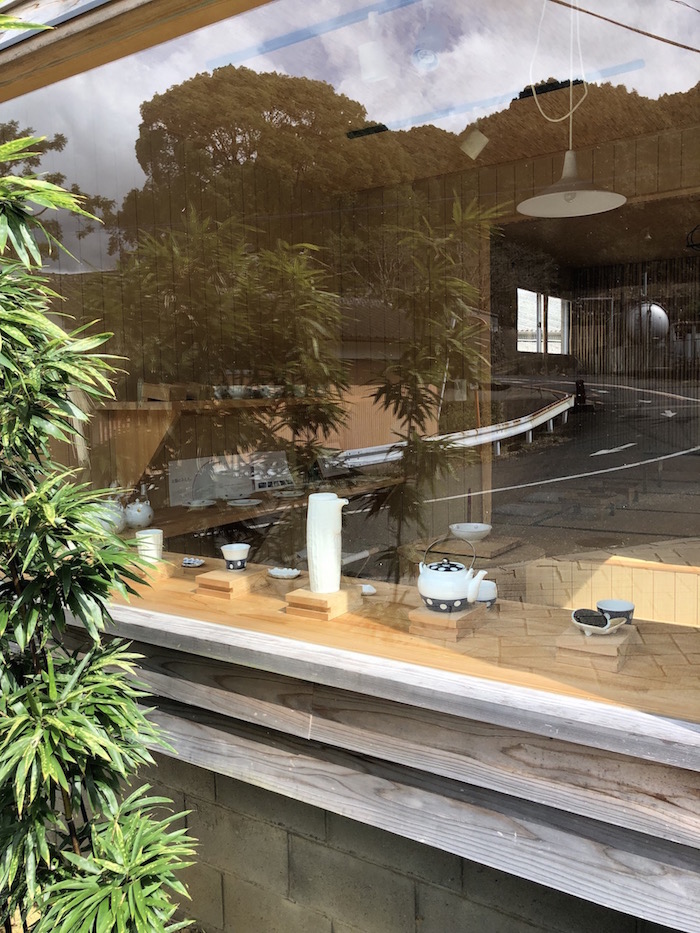 Next stop was 224 Porcelain. Their workshop was in a standard modern building, though it was equipped with an advanced industrial cutting machine. Their products are quite simple in design, yet functional. For example, their soy sauce tray for sushi and sashimi creates a shape of rice ball when you pour. It is a very simple idea, but it will make you smile when you see it.
224 Porcelain also run a select shop and a café in the centre of Ureshino town. You can easily spot the shop, as it has a presence that is quite different from others in the area. Once you have enjoyed the shop and come out to the street, you are instantly brought back to different times, with the town looking that little bit nostalgic. I really have to say that you wouldn't expect how modern technology and traditional methods are co-working together when you first enter this small pottery town.
One more thing…
One of the great things to feature in Hizen Yoshida Yaki is the local kiln union, which includes the two kilns I wrote about above, and its project to attract more attention to slightly imperfect second items. The project is called "Ekubo to Hokuro" (『えくぼとほくろ』), which means "A dimple and a mole". A dimple represents an air bubble the caught in glaze, while the mole represents iron or any other elements left in the clay, which appear on the surface during the firing process. I found this project fascinating. It allows us to appreciate the craftsmanship and encourages customers to understand the production process, by presenting it in a very charming way. Every kiln has a dedicated section for it, with a generous discount from regular prices. You can follow this friendly map to visits each kiln. (Booking an appointment is recommended, as sometimes staff are away.)
To be continued in the next post about the neighbouring town, Takeo.