Monday, 25 May 2020
Read about the beginning of our journey in Hakata and Ureshino here.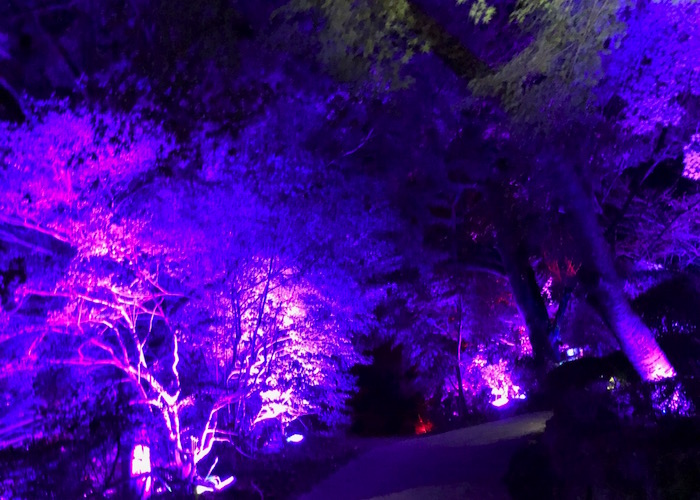 From Ureshino to Takeo
Thanks to a lady from the Hizen Yoshida Ceramic Hall in Ureshino, who kindly offered us a ride to the bus station, we managed to catch our planned bus to Takeo. While the bus journey is only half an hour, buses run every hour. On the way to the bus station, we enjoyed a conversation about potteries. Passing local residents, shops, and green fields appearing on both sides gave me a mixed emotion of missing this town and people we've only just met and of quiet excitement about how the next town will treat us.
Takeo is located in the centre of Saga, with Arita to the west and Karatsu far to the north. Takeo is mostly known as an Onsen town, with 1300 years of history. There are many onsen ryokan (Japanese style inns with hot springs), and you can even visit an onsen in an old building, which is a registered Important Cultural Property.
What is Takeo pottery?
Like in Ureshino, potteries in Takeo has started around the 16th century. There is however no one style of Takeo pottery (武雄窯元). Unlike most of the Hizen Yoshida pottery of Ureshino, Takeo ware is made in both earthenware and stoneware and has no strict rules on its style. While it shows the influence of white porcelain ware of Arita and bitter and warm style of Karatsu ware, Takeo ware still has a lot of its own value (I will be writing about Arita and Karatsu ware on following posts). Currently, more than 90 kilns are run within Takeo city which produce pieces in a variety of styles.
Our pottery journey started with…
To tell you the truth, it was not easy to plan and set appointments for kiln visits beforehand, as we were moving from town to town every day. For this reason, we decided to call a taxi and ask for recommendations from a driver, rather than spend longer looking which kiln to visit. And guess what happened? Well, we ended up having an interesting journey with our friendly and kindhearted driver (later we found that some local taxi companies have a booking option specifically for kiln visits, so I recommend using it if you're not renting a car).
The driver took us towards Kurokami mountain and we found a kiln called Iroe kobo (いろえ工房). He dropped us off but soon after he came back, worried if the kiln was open. He started asking around the neighbourhood, and soon we heard a lady yelling to us across a field, saying that the owner is away. As I could not figure out what she was saying (she spoke with a bit of dialect), I was really grateful for the driver being with us. Since then, he offered us to be a part of our tour for the rest of the day.
Kiln visits
The next kiln we found was called Tsutsuegama(つつえ窯). A couple runs in together, though they make ware in different styles. The husband makes classic Karatsu ware, which has rich a layer of glaze over warm and earthy colour of clay, while the wife makes ware with delicate hand paintings of nature over a transparent glaze. Coming from porcelain town of Ureshino, I couldn't help myself noticing, and admiring the diversity of aesthetics between these towns, which are so close to each other. 
They have a small gallery room next to their workshop, which you can see through a window from outside. When we entered the room, one kind of bowls instantly caught my attention. They had a beautiful flow of glaze, nicely blending in and creating a flow resembling the shape of a mountain. Since my husband and I both liked the design, we decided to purchase a set of four of these bowls for ourselves.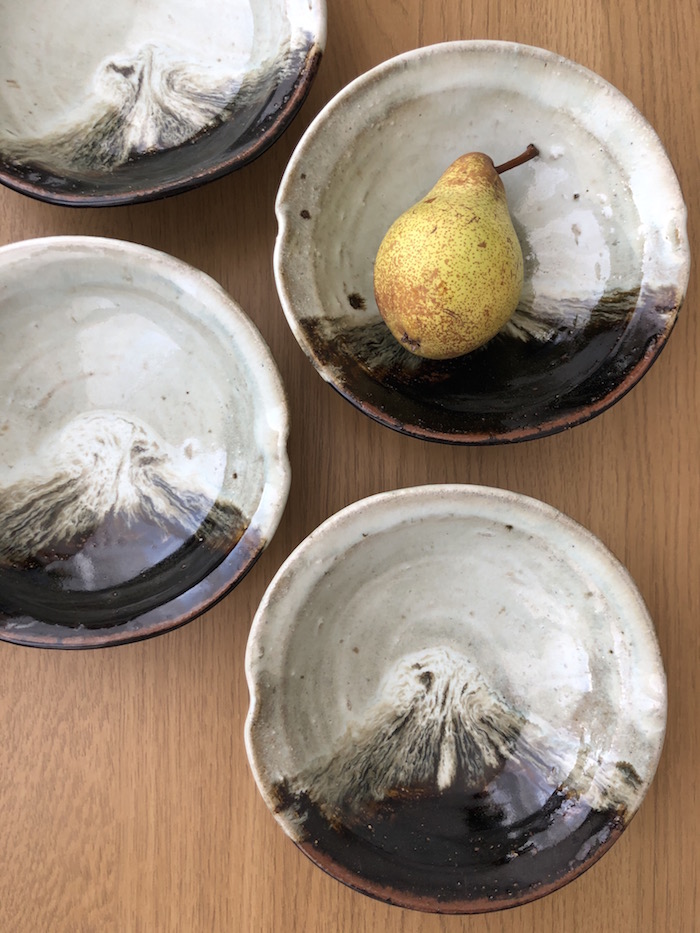 What it means to become a craftsman in Japan
Having a chat with the owner about running a kiln these days reminded me of one fact differentiating crafts culture in Japan.
While Japan has rich traditions of pottery, the industry itself is hard to be seen as growing. I sensed this fact when a lady who served us a dinner at a ryokan was surprised how young I was to be a potter when she asked me what I do in England. I was slightly confused, though not surprised, knowing that some people still believe that it should be a long journey to become a craftsman (職人). For example, you can be an apprentice for the first 5 to 10 years, mainly looking after the workshop. Only then a master will finally start giving you technical lectures. I believe this situation is starting to change nowadays, but running a pottery business on my own might not look similar if I was in Japan.
To the next kiln
I noticed that the area of the Kurokami mountain has good food from local ingredients. Some kilns even run a café next to the workshop. Our next kiln of Touringama (桃林窯)was one of them. A couple runs this kiln, the husband works in the workshop and his wife runs and serves at the café. You can enjoy a meal made from freshly picked vegetables and more, served on the masters' works at this place.
We walked around rooms of café to explore his works. My husband and I spent quite some time enthusiastically discussing how each piece can be used for this and that.  The lady kindly offered us local green tea, served of course in the cups made by her husband. We enjoyed the tea as we took a short break from viewing the collection.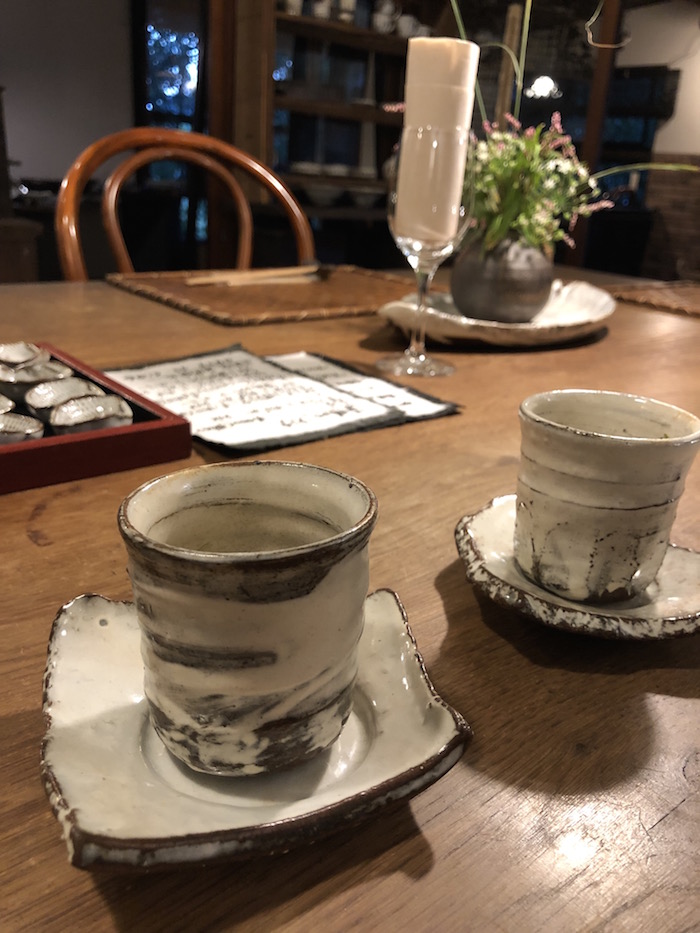 The lady told us how her husband is passionate about making original clay from local soils, which he finds exploring around the neighbourhood and the mountain. His works are very energetic and have a solid flow. The wooden interior of the cafe was warmly housing his pieces and creating comfortable surroundings.
There were a few pieces that I wanted to bring home, but I felt that first, our home needs to be ready to accommodate items with his bold energy. Instead of giving up on all of them, we decided to get a set of chopstick rests, which were quietly displayed at the table. Even though they are smaller pieces, we admired them as they surely showed his aesthetics, and will be reminding us of this cafe.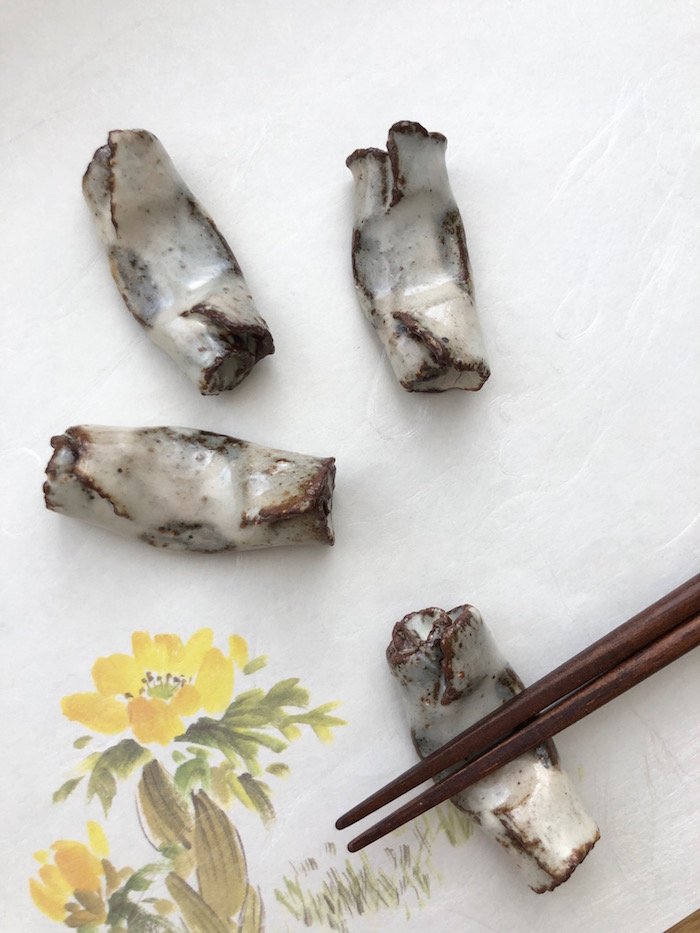 One more thing…
Let me share this wonderful art installation we experienced at our stay of Mifuneyama Rakuen hotel. The hotel is located within the grand Mifuneyama Rakuen(御船山楽園), a 500,000 square metre garden, which is designated as a Place of Scenic Beauty. You can enjoy viewing different colour trees and flowers blooming in every season, including 2,000 cherry trees and 200,000 azaleas.
Coming from a sunny car park located at the foot of Mifune mountain, as soon as you enter the hotel you feel as if you were taken to a different dimension, a world filled with anticipation. The installation covers the whole ground floor and continues to the garden outside. If you are staying at the hotel, you can freely visit the garden through a hidden path, with no extra fee.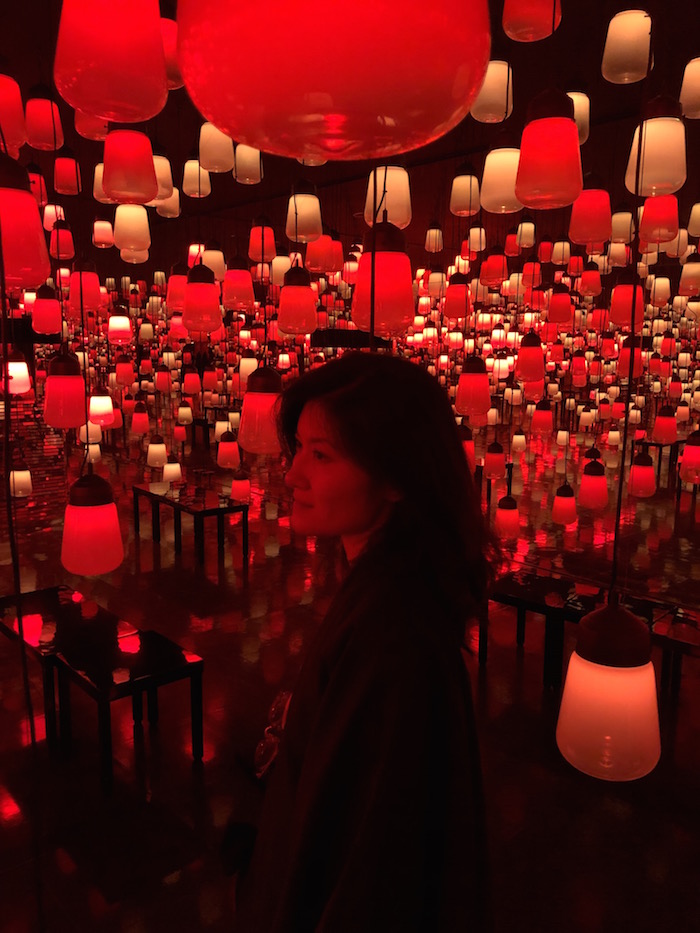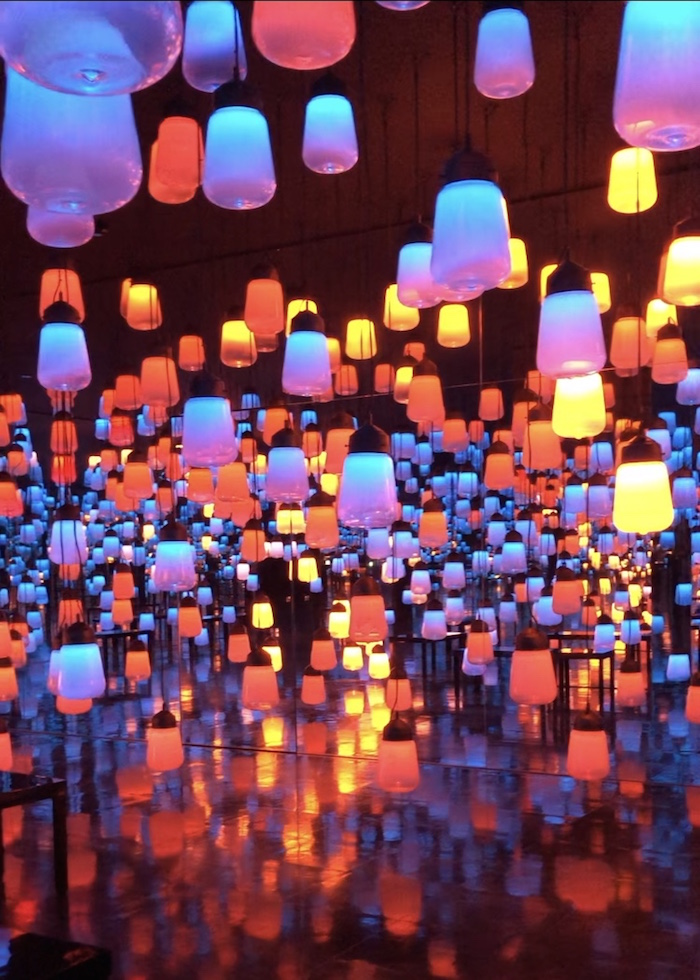 Going to the garden with a map guiding you through the numerous parts of the installation, you are now en route to a mystery adventure. There were more than ten elements of the installation, placed on different types of objects, such as big rocks and ponds. The biggest part overtakes the whole scenery of the garden, lighting up miraculously in the dark.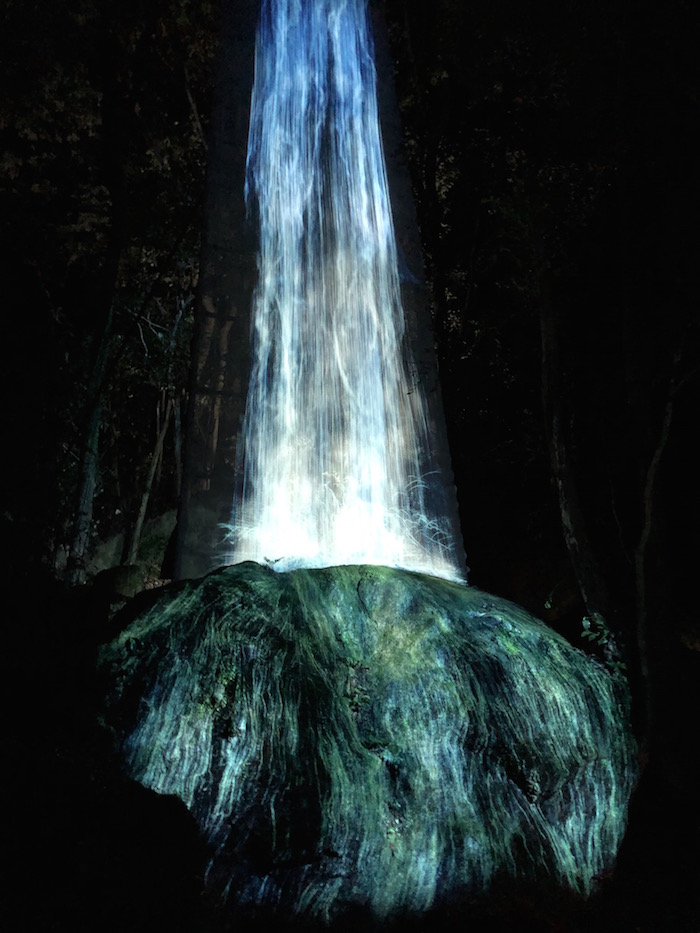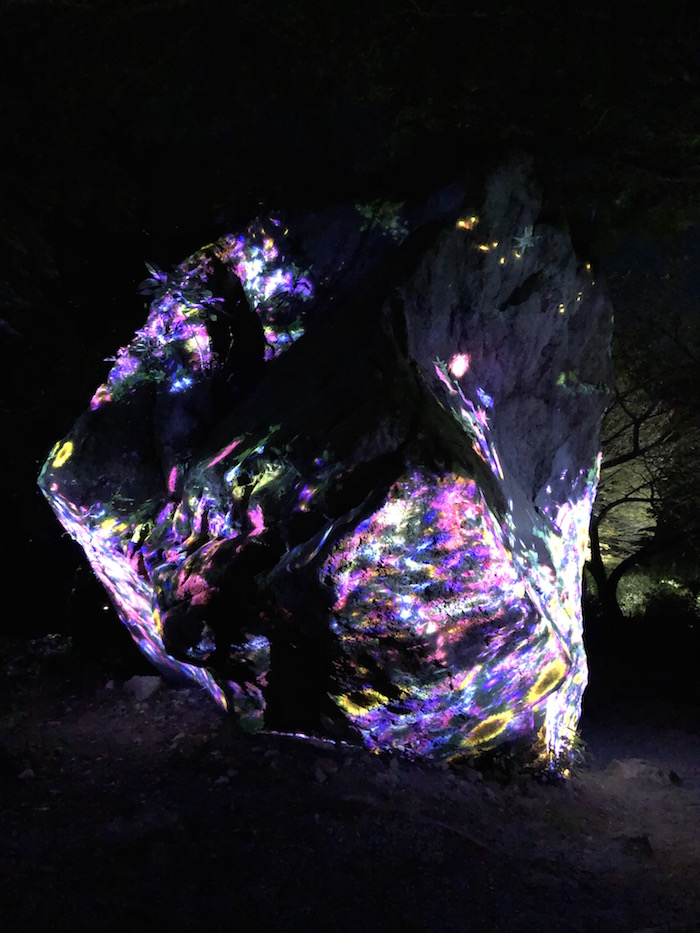 This installation was in the garden only for a few months. It was created by the emerging digital art group called teamLab★. They produce artworks and seasonal exhibitions around the world and have a permanent exhibition, which you can visit in Tokyo as well. If you want to see more of the installation of the hotel, you can watch a video on their website.
To be continued in the next post about the birthplace of Japanese porcelain, Arita.