Tuesday, 16 June 2020
Read about the previous part of the journey in Takeo here
Before moving to Arita…
We decided to have a quick stop at Takeo Library before catching a local train to Arita. The library is not just a regular library. Inside there is a café and a shop. The building has a very modern architecture, which stands out from the scenery of Takeo. It attracts people as a place to gather while functioning normally as a library. In fact, I had to extend my stay a little longer since they had a good collection of books about ceramics.
Arriving to Arita
Arita was a few stations away from Takeo by local train. The train runs over ground, so could admire a beautiful scenery. On the train, there was a group of young students on their way to a school. I enjoyed observing them, remembering old times of mine.
Arriving at Arita station, which is built in a style of traditional Japanese house, I was quietly surprised. Knowing the scale of ceramics manufacturing in Arita, I was expecting a more commercialized feel to the entrance. Instead, it was giving only a few hints of what this town is all about.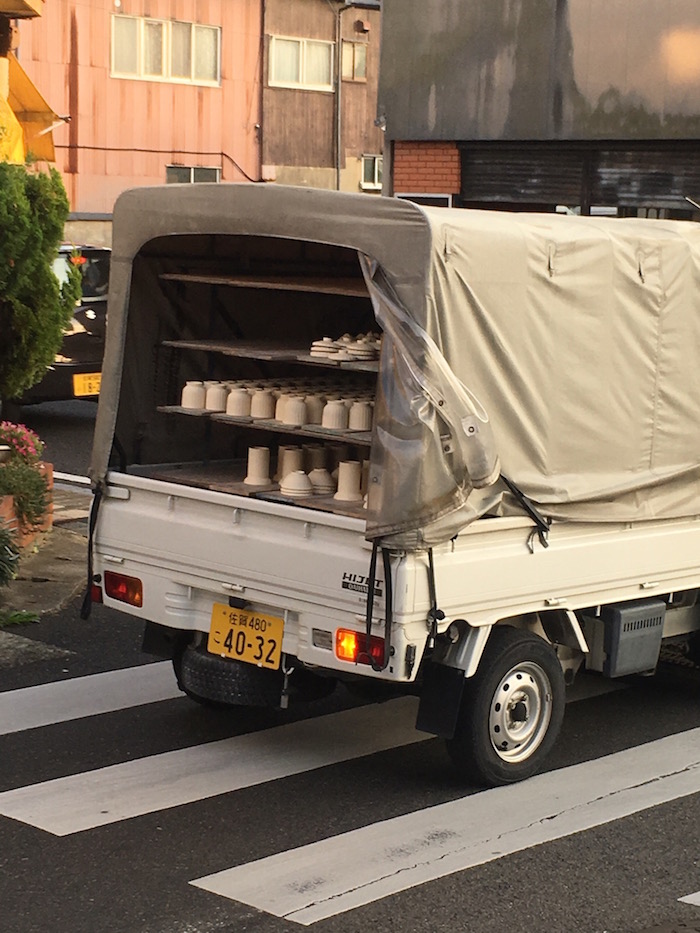 About the town of Arita and its ceramics fair
Walking five minutes from the station, you will arrive at Sarayama street (皿山通り), which is the main section of the popular visiting site of Arita, called Arita Uchiyama District (有田内山地区). The street goes all the way to Kami-Arita station and is filled with old-style shops and galleries of local kilns. This district is selected as an Important Preservation District for Groups of Historic Buildings, and a long-standing home of "Arita Ceramics Fair" (有田陶器市), with more than 100 years' history. The fair is one of the biggest fairs in the Southern part of Japan and welcomes more than 1 million visitors, with about 600 of kilns and shops showcasing every year. (Although, according to Saga newspaper, the number of exhibitors is decreasing every year due to reduced sales and ageing population. However, they successfully continued the fair online this year during the pandemic period.)
History of Arita ware and its mark on the world
Influences from China and Korea
As I wrote briefly when introducing the history of ceramics in Saga in the first post, porcelain production in Japan developed under influences from China and Korea. Production started in the early 17th century after a Korean ceramicist discovered porcelain stone in Arita. Since then, for over 400 years Arita has been producing table wares and decorative craft wares.
During earlier periods, the pottery of China have been imported to Japan. Chinese production has established techniques from Celadons (青磁) and white porcelain (白磁) to under-glazed porcelain (染付) and over-glazed enamel porcelain (五彩). Meanwhile, in Korea production of unique inlaid celadon wares (象嵌青磁), based on the techniques of China, and ware with sweeping striation design of Mishima style (三島手) and under-glazed iron (鉄絵) has developed. All those techniques and manufacturing arts had a great influence on the ceramics of Kyushu.
Dutch trading begins
In Europe, possessing opulent porcelain pieces was one of the symbols of wealth among nobles. However, porcelain production in China has declined due to the domestic conflict in the mid 17th century, while porcelain production of Japan has just reached the level sufficient to meet the demand in both quantity and quality. Therefore, Dutch traders started to import Japanese porcelain to Europe and Africa, with routes through Southeast Asia and India.
Since Arita ware (有田焼) was imported from Imari port, located 15km away from Arita, the ware was widely known as "Imari (伊万里)". With this background, the most of opulent Imari ware you find in Europe and other parts of the world, is technically Arita ware. (I'll be writing about visiting Imari in the next post.)
Becoming a world-famous Arita yaki (ware)
During the Meiji era of the 19th century, Saga domain, together with the neighbouring Satsuma domain, took part in Paris International Exhibition (パリ国際博覧会), where the exhibited Arita ware was well received. As it started to gain fame, the trend of Japonisme has spread around Europe. Since then, the domain participated in more International Exhibitions around the world, including in Vienna, London, San Francisco and Philadelphia. Two among the biggest porcelain manufactures in Arita, Koransya (香蘭社) and Fukagawa Seiji (深川製磁), have been awarded gold medals and Grand Prix for their ceramics. All these events established a reputation of Arita ware over the world, which lasts until the present day.
The Kyushu Ceramics Museum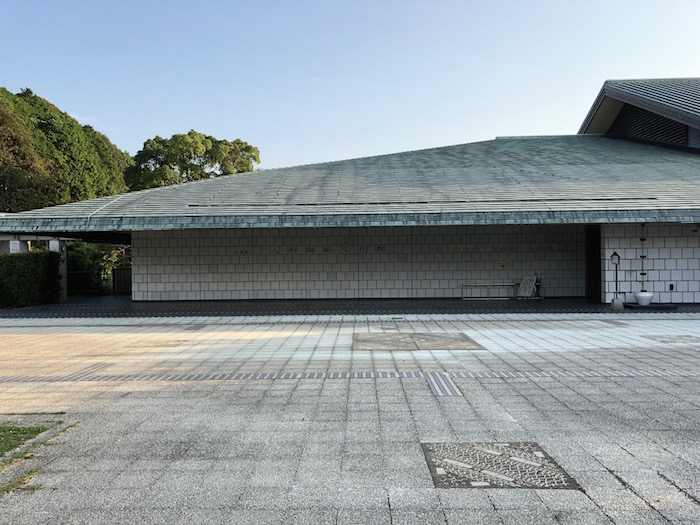 If you visit Arita, it's difficult not to visit The Kyushu Ceramics Museum (佐賀県立九州陶磁文化館). It's located on a hill, which you can even see from Arita train station. Standing at the top of the hill, it looked as if the museum is guarding this town. 
This museum has everything you need to know about ceramics in Kyushu. You can learn about the history of ceramics of the island and about the processes of making involving a variety of decorative techniques. The museum has one of the biggest treasured collections of Arita (Imari) ware and other traditional wares of Kyushu, as well as contemporary ceramics art of Kyushu.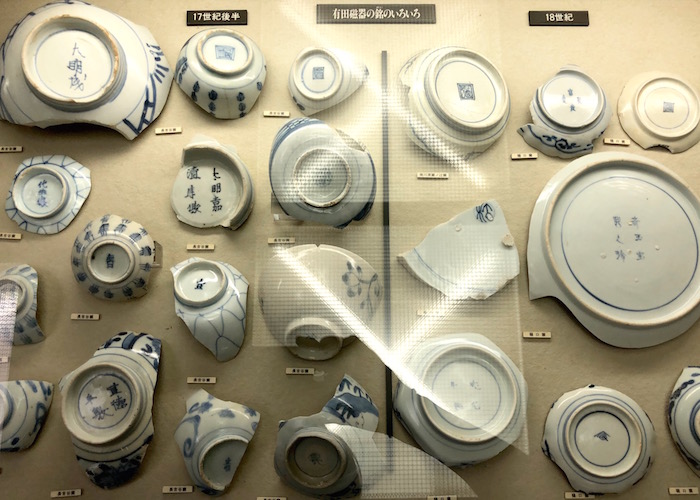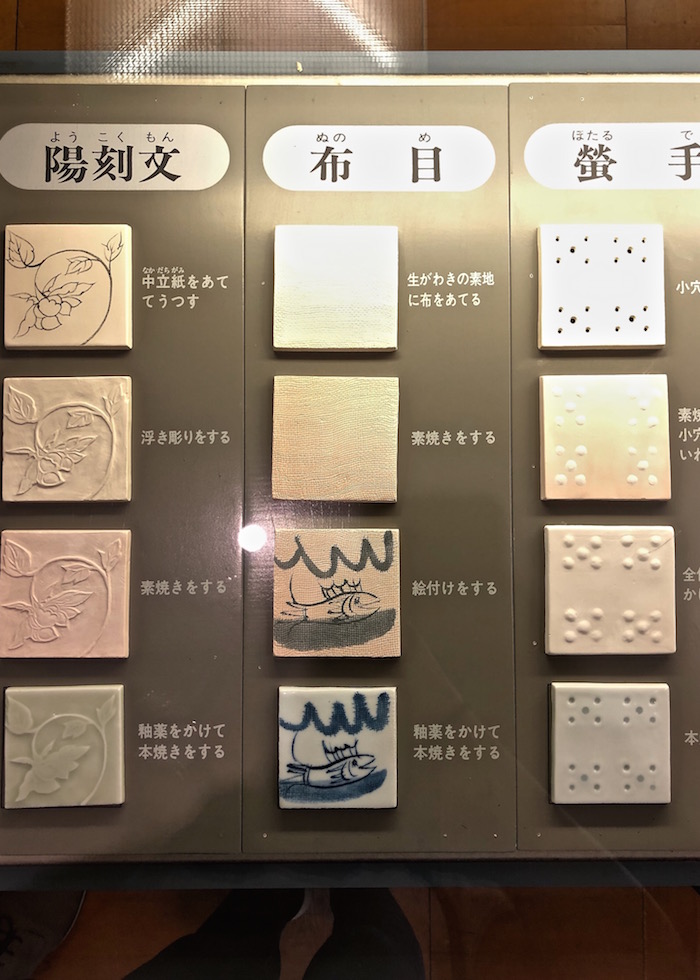 As grand as the museum is, it didn't forget to show its charm. On top of having an interior decorated in Arita porcelain (even toilets!), they have wind chimes made from porcelain on the exterior walls of the museum. These beautiful chimes were gifted from the sister city of Meissen, Germany. Hearing these chimes echo, their sound flowing from the top of the hill to the rest of the town, was very beautiful and nostalgic moment.
Kajikenseiji Mould Museum
As I use a slip casting method for my production, I was interested to learn about methods of volume productions in old times. Before plaster and machines took over in the early 20th century, wooden moulds and soil moulds were commonly used. The museum of Kajikenseiji (梶謙製磁社 型の美術館) displays selected pieces out of a few thousand moulds which they own.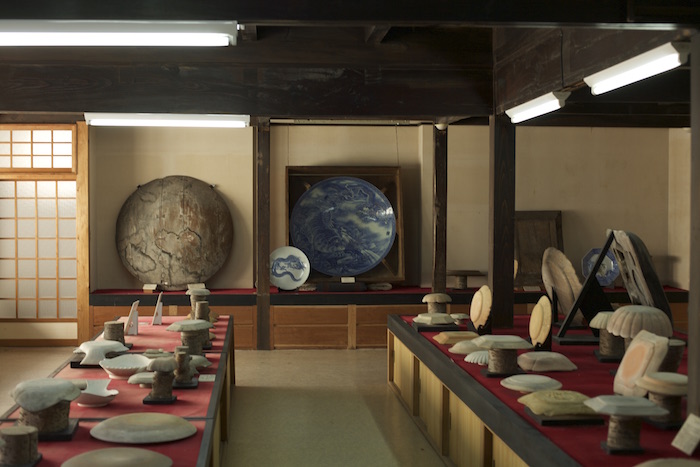 The moulds vary in size and form, the biggest one being more than 1 meter in diameter. While having a chat with the president of Kajikenseiji, Kajiwara-san about how we ended up visiting Saga from England, we discovered one connection with this kiln. He told us that one of the biggest decorative dishes they made on an order from Koransya in the 19th century, a piece over 1 meter in diameter, is archived in the Victoria & Albert Museum in London. There are also two other dishes archived in museums in Tokyo and New York. Hearing that none of his family have ever seen the images of those dishes before, I couldn't help myself offering a little help to find the piece when we get back to London.
… How did that go? Well, a good couple months later, we (technically my husband) managed to find it in records of the V&A Museum archive. It was recorded that the piece was purchased directly by the museum at the Paris International Exhibition of 1878 and kept in the permanent ceramics collection. Reporting back to Kajiwara-san made me feel somehow connected to the history of the town we visited, as well as genuinely feel nice to be able to help this great kiln with a long history.
One more thing…
I'd like to introduce this lovely accommodation we had in Arita. While there were not many hotels in this town, there were a few Japanese style inns and guest houses. We stayed at the charming ILHA Accommodation, where you can experience a Japanese style tatami room in a nicely renovated setting. The ground floor is a ceramics shop and a café / bar, while the spacious first floor was all ours. My husband and I wished that we could stay longer as soon as we first entered the room.
The owner, Fuchinokami-san, who has a background in interior design, designed and opened this accommodation. The charming but relaxing interior of the café made us feel as if we were visiting distant family's home, where you can only visit on a special occasion.
The next morning, coming down to the café and being drawn by a smell of breakfast couldn't be more perfect. Especially after staying in onsen ryokan with fine course meals for two days, we liked its homely atmosphere for a good change. We enjoyed the lovely breakfast of a sandwich and a coffee (in a porcelain cup) that Fuchinokami-san prepared. He kindly gave us some recommendations for places to visit in this town after breakfast. Knowing we have a comfortable place to come back to next time we visit, made us feel more attached to this special town of porcelain.
To be continued in the next post about visiting local kilns of Arita and visiting the town of Imari.