Thursday, 2 July 2020
Read about the previous part of the journey in Arita here.
Our journey started with
Usually, I use public transportation to get a feeling of the local community. However, since Arita has a lot to offer, we finally decided to rent a car to make the most of our visit.
Close to Arita station, there was an information centre called Kiln Arita. The entrance to the centre made quite an impact. It was made out of a bright red shipping container, gently leaning towards the ground(!). Unlike its presence outside, the inside of the building was pleasantly calm, containing a cafe and a lounge space. We managed to rent a car and prepared ourselves for another day in Arita and Imari.
Kiln visit: Yamaheigama
One of the highlights of the whole trip when it comes to visiting kilns, was the next kiln, Yamaheigama (やま平窯). Their design is very graceful, presented in a contemporary style. As I genuinely admire their aesthetics, I was able to spot some of the ware used in a local French restaurant, where we had dinner the night before.
One of their signature collections is "Egg Shell". They have a very delicate presence and are the shell is only 1mm think still, they are very durable. This design was used around the Edo period, and Yamaheigama successfully revived the method by developing specially-made clay. The collection shows their skilled craftsmanship and a great balance of finesse and functionality.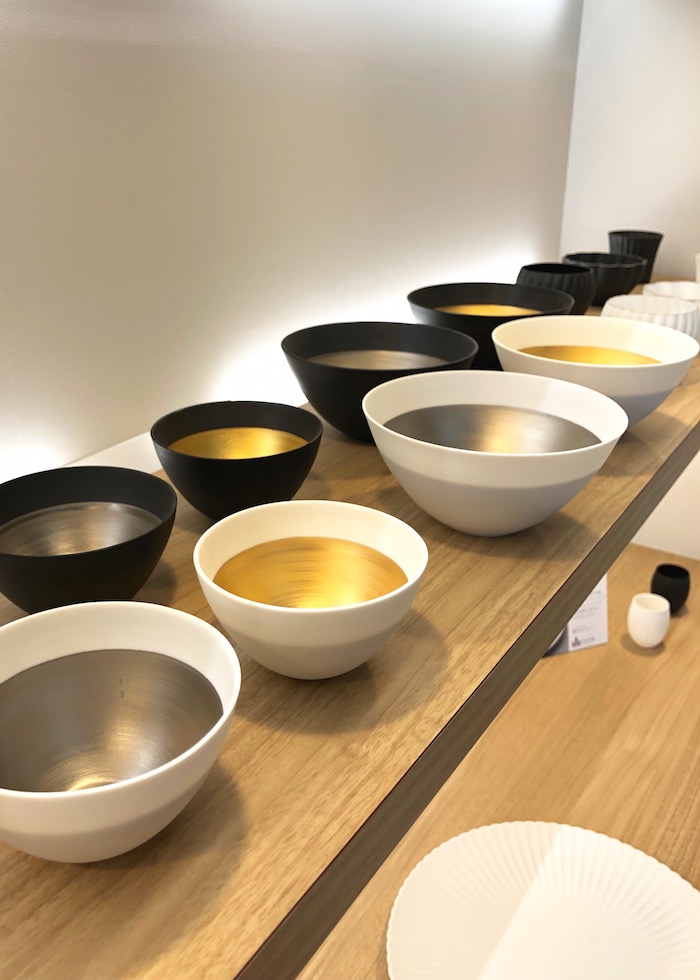 Another thing that I'm fascinated about with this kiln are textures they create, mainly made from natural forms, such as wood pattern and soap bubbles. The combination of beautiful organic design finished with sophisticated colours of white, silver, gold and black, is just very alluring to look at.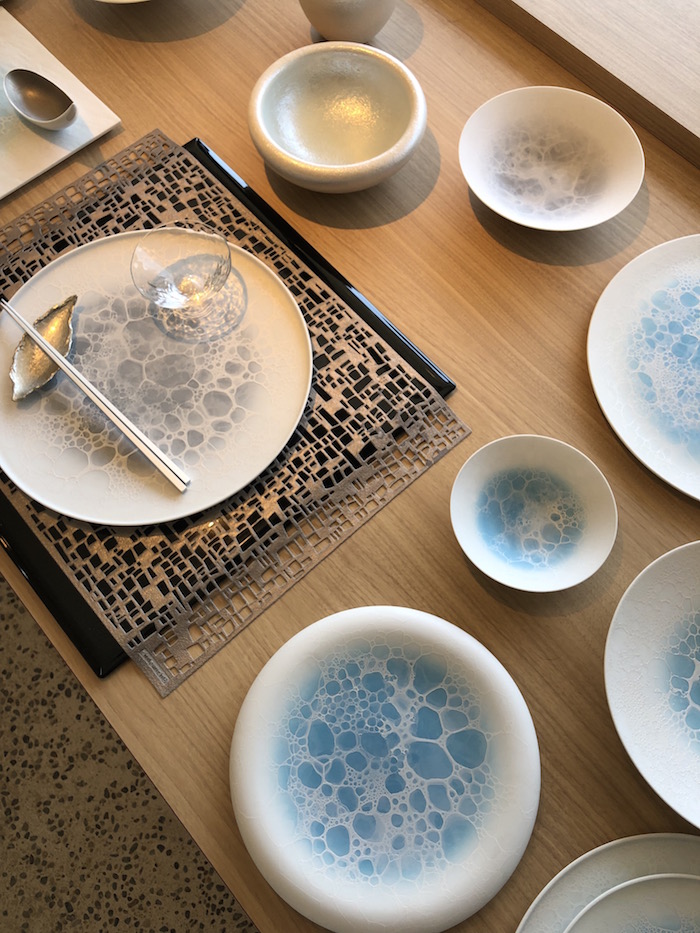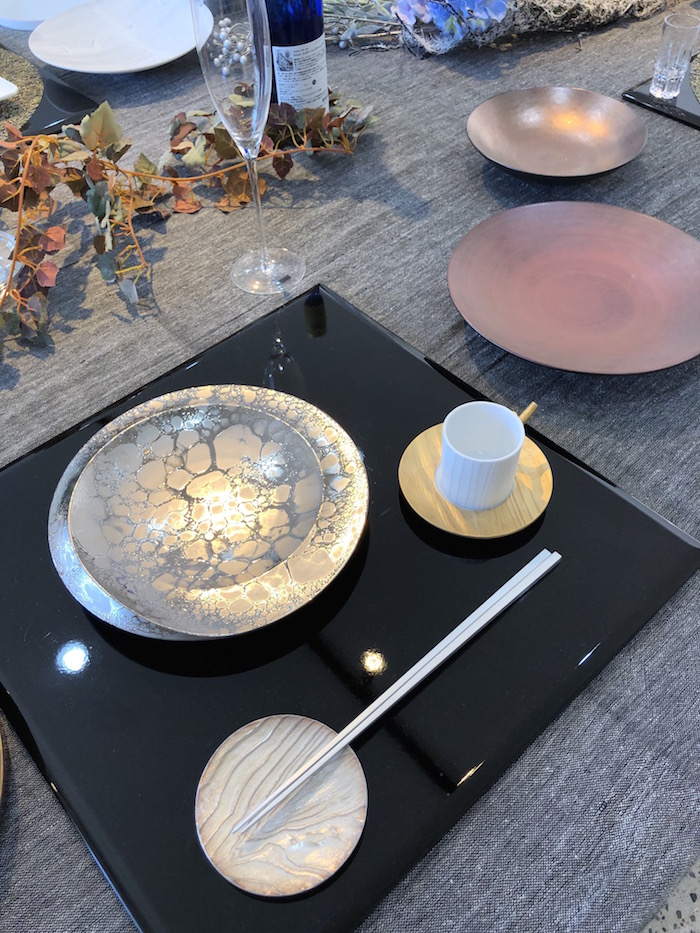 Good news is, we had a chance to visit not just their gallery, but also the workshop. And surprisingly, the company president himself gave a tour just for my husband and me.
Stepping inside of the workshop, which was right next to the gallery, we first ran into a group of craftswomen working on decorative works and product inspection. Since I saw some of the pieces that I admired, I was quietly thrilled to see work-in-progress soon after we started the tour.
There was a big casting section, which covered almost half of the workshop, and we were only allowed to have a quick look at the area. I was curious about the large numbers of moulds stored on shelves; still, it was interesting to see the scale of production.
Coming back to the first half of the section, there was a glazing area with many buckets stored randomly. Right next to it, there were two large industrial kilns, almost the size of a van. As I have been visiting smaller kilns for the last few days, the machinery looked more powerful. Seeing the whole setting of the workshop, I was genuinely amazed and impressed. I understood how much it takes to run a kiln as a company. Visiting this place gave me some inspiration for the future, and I really enjoyed the visit itself.
Kiln visit: Gen-emon
We made a quick visit to Gen-emon (源右衛門窯) kiln, which is one of the oldest kilns, with over 260 years of history. They are known for reviving "old-Imari" style (古伊万里様式), which has gained fame around the world in the Edo period (you can learn more about this bit of history from the previous post about Arita). They had a gallery, shop, and workshops right next to each other in a traditional Japanese style architecture. By looking at the countless gorgeous and intricately designed wares in the gallery, I couldn't help myself imagining how people were amazed by and admired them in earlier periods.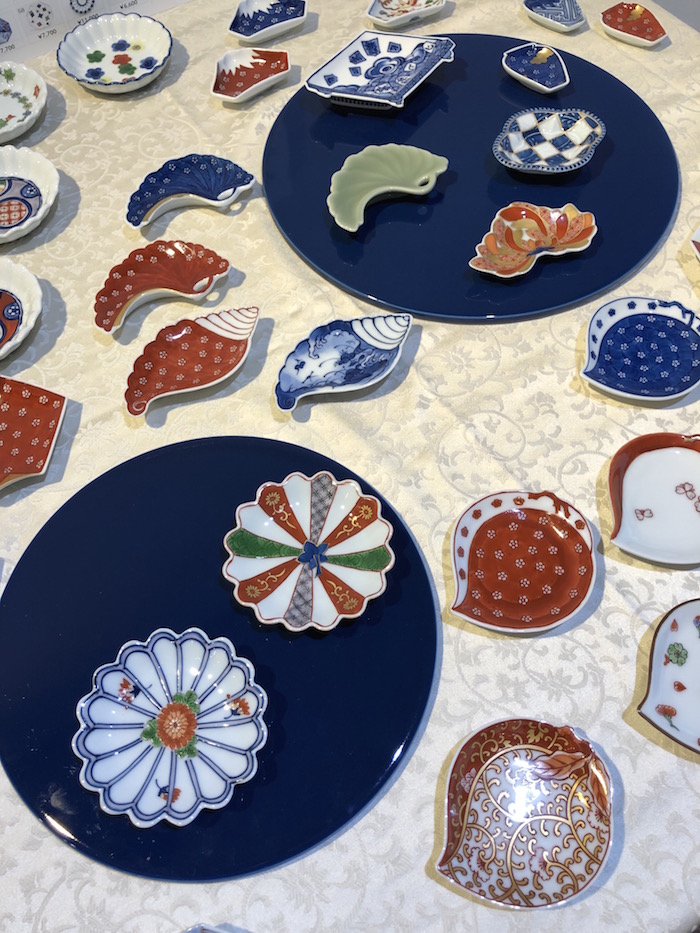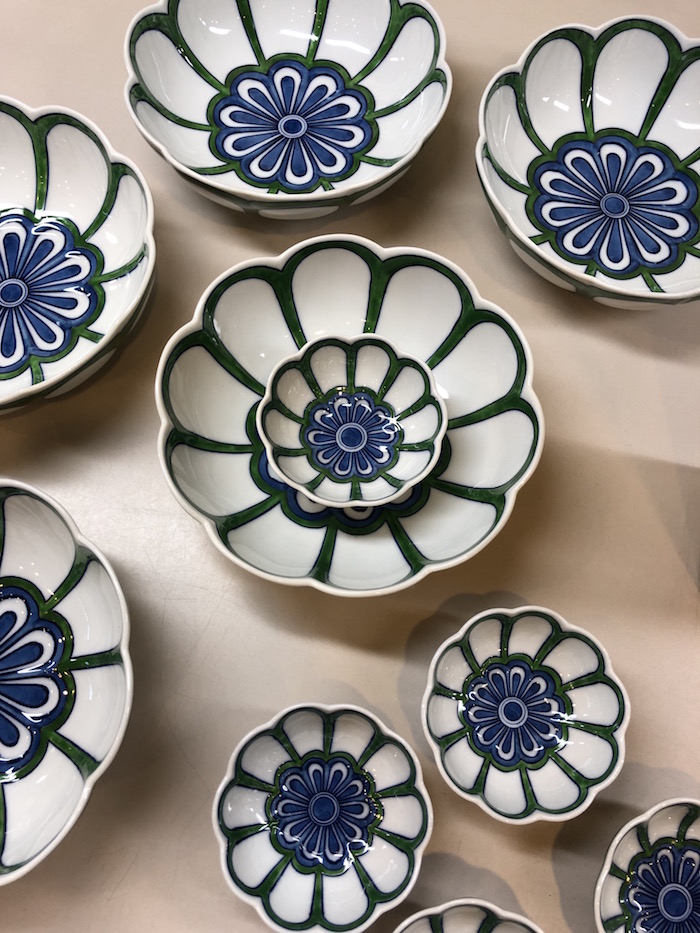 As lunch hour was approaching, we decided to come back later to visit the workshop (unfortunately, it didn't happen after all as we had to move to the next town).
Saga University, Faculty of Arts and Regional Design
You may be surprised to find us visiting a university. Yes, so was I. I thought it was a great opportunity to find out what I would need to learn to become a craftsman or work in the area of ceramics in Japan. Since we passed by the building of the university, we decided to make a quick stop.
Here is what happened. When I asked about the curriculum at reception, the staff seemed confused and ended up guiding me to meet one of the lectures. So luckily (but not entirely, because we were in a slight rush to move to the next town before it gets dark), I somehow managed to get into the university.
As it was between terms, the inside of the building was quiet and seemed really spacious. I passed by a few workshops filled with potter's wheels and plaster moulds. I saw a student working alone in an empty room and remembered when I used to do the same at a university in England.
I enjoyed talking with the lecturer, Kai-san, getting insights into the structure of the course and how the students are. During the conversation, I was reminded that the number of people in the industry is shrinking. Due to lower wages, becoming a potter (or any craftsmen) after obtaining a degree doesn't seem attractive for students nowadays. Hearing there are only five universities which have departments dedicated to ceramics (according to him), I found myself anxious about the future of the industry in Japan.
Later, through my own research, I found out that the ceramics department was the former Arita College of Ceramics (有田窯業大学校). Due to the decreasing number of students enrolling every year, Saga prefecture decided to merge the college into the Faculty of Arts and Regional Design of Saga University by adding a new department. In this way, they still aim to rejuvenate the industry of this region, together with Saga Ceramics Research Laboratory and the Kyushu Ceramics Museum.
Visiting Okawachiyama, Imari
Since Arita and Imari have a long history together, I looked forward to visiting the place where the world-renowned history of Arita ware started.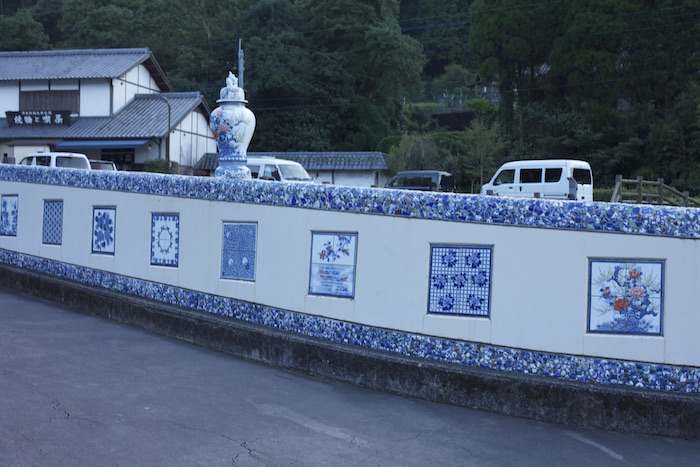 This village of Okawachiyama (大川内山) was home of dedicated kilns of Nabeshima clan (鍋島藩御用窯), which ruled the Hizen area in the 17th century and was the first clan producing porcelain in Japan. They have been producing fine porcelains to pay tribute to the shogun dynasty, and those opulent pieces was called Nabeshima-ware. Nowadays, the village is registered as a national historic site and is one of the popular visiting sites around Imari. Twenty-four existing kilns in the town maintain the high-skilled traditional craftsmanship of Nabeshima-ware in their production of modern-day Imari ware.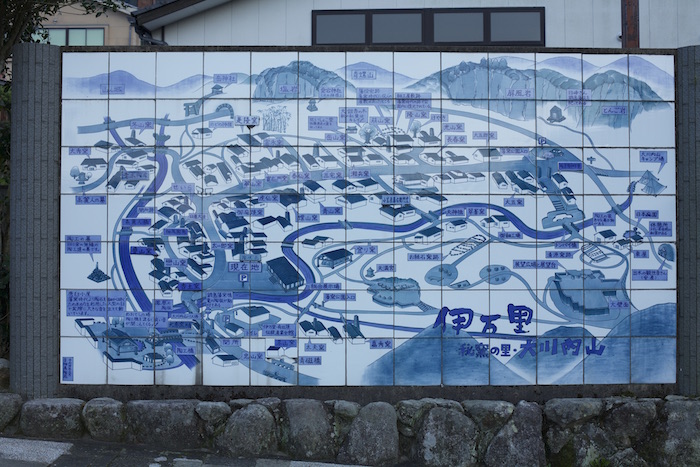 Driving to Imari from Arita took us only about 20 minutes. However, we arrived at a time when the town was starting to quiet down. We didn't see anyone walking around, even local residents. We enjoyed the feeling of the village being all ours to explore.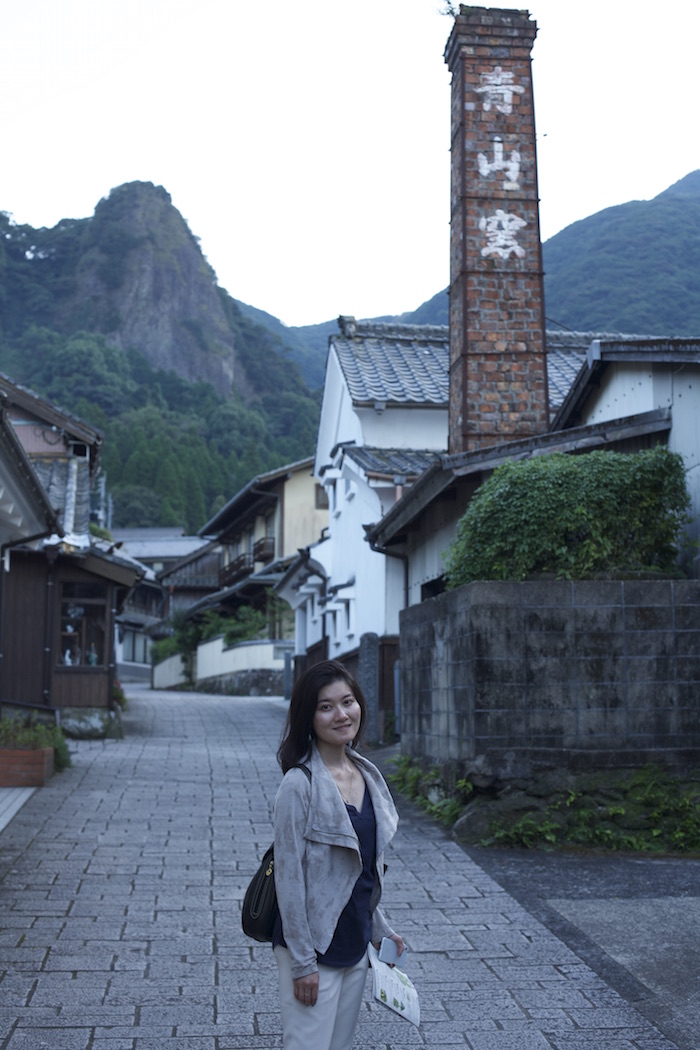 Walking around the village was like a treasure hunting. We found some ceramic pieces displayed in unexpected sites, wherever we went. It was as if this place kept whispering us what it is really about.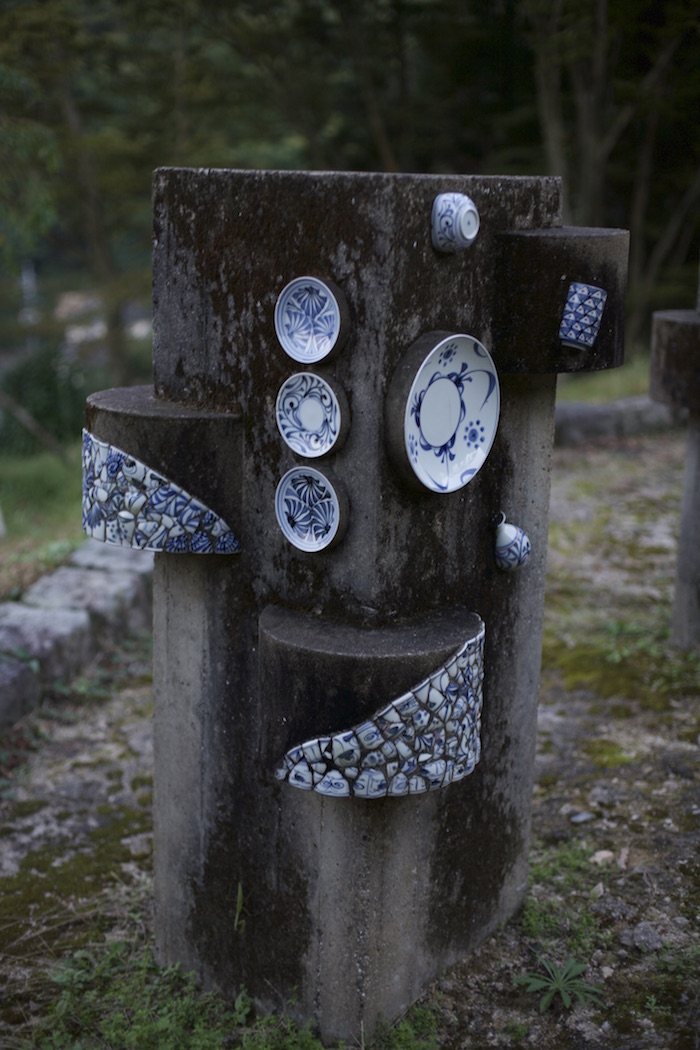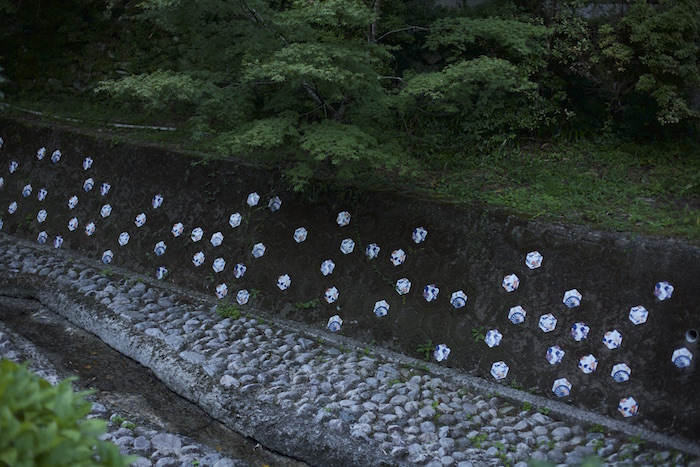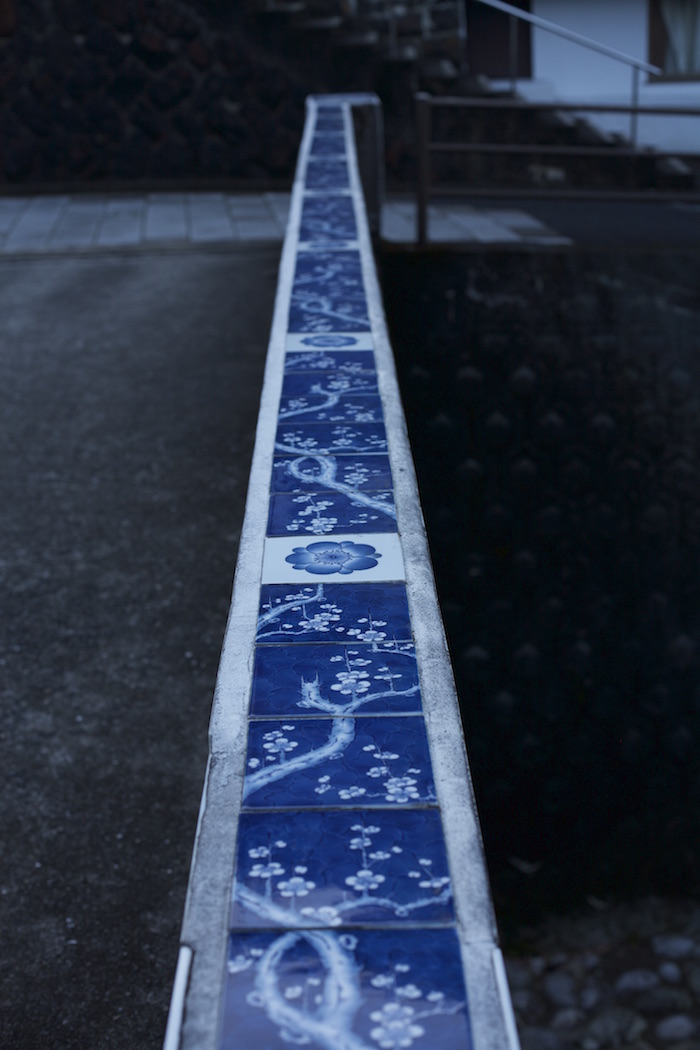 One more thing... our last stay in Saga
After enjoying the visit to Okawachiyama, we dropped off our car. We changed to a local train to Karatsu (唐津), which was our last town to visit on this whole trip. It was an interesting ride on an old-style train with only two cars.
Arriving at Matsunoi (松の井旅館), a traditional Japanese ryokan in Karatsu, we received a warm welcome. The lady who introduced the ryokan and the area around asked us if we have any specific reason for our visit. Sharing what we are here for and what we have done and seen on our journey, she excitedly told us about Karatsu ware and what may be interesting for us in this town. I enjoyed chatting with her as she was very genuine about admiring ceramics.
Luckily for us, it turned out we were the only guests for the night due to an approaching typhoon. Thanks to this fact, we enjoyed having the onsen just to ourselves. Seeing the grand Karatsu castle lit up beautifully in the dark made me excited for what awaited us the next day.
To be continued in the next post about Karatsu and Hakata.